Janab's Law Series
2019 Edition
"The works of Justice Datuk Dr Haji Hamid Sultan Bin Abu Backer has rivalled and even out-stripped Commonwealth writers of legal texts. One cannot have a more diverse selection of subjects than those produced by the author. Specialisation marks the knowledge base of an author. The five works now available to lawyers, students and teachers stand as evidence of Justice Dr Hamid Sultan's expertise on each of these subjects. This is, to say the least, a rarity."
JANAB's Arbitration Moot Court and Award Writing
Ucapan Syariah dan Kenyataan Akhbar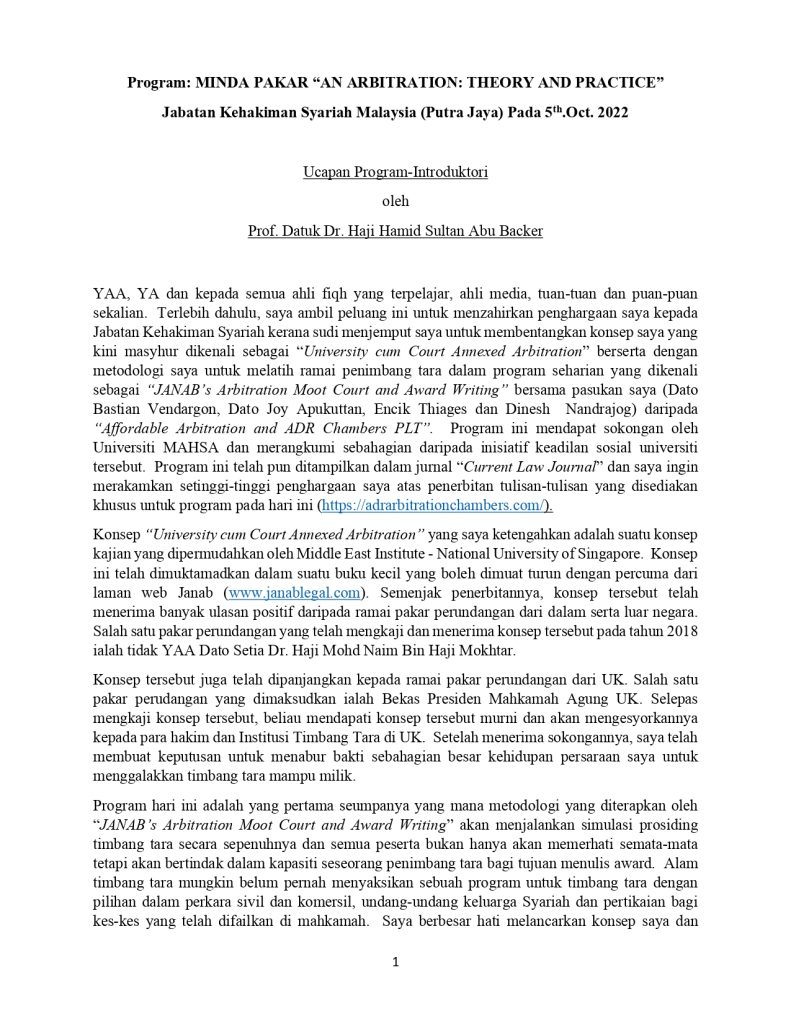 Syariah Speech and Press Release
CIVIL PROCEDURE 6th Edition
THE LAW OF EVIDENCE, ADVOCACY AND PROFESSIONAL ETHICS – 5th Edition
LAW, PRACTICE AND LEGAL REMEDIES 2nd Edition
Local authors and universities are welcome to contribute their academic books to the Parliament as this will help the Dewan Rakyat carry out better research, said Speaker Datuk Mohamad Ariff Md Yusoff. He said there is no better way for Parliament to function than to have books and documents on hand that can help research officers carry out their important duties.
Mohamad Ariff said this after receiving a collection of five books authored by Court of Appeal judge Datuk Dr Hamid Sultan Abu Backer.
Law Students may apply to the Authors for 50% Subsidy by emailing a copy of valid Student ID and IC copy to sales@janablegal.com with request to for subsidy by authors. Upon approval by the authors, a subsidy coupon will be emailed to the students, which will allow them to place the orders at the subsidised price.
The subsidy only applies to the 5 books under of Janab's Law Series 2019 Edition and the subsidised net price will be RM125.00. Every student may only buy one copy of each book at the subsidised price.
Constitutional Oath, Rule of Law &
Research paper by:
JUSTICE DATUK DR. HAJI HAMID SULTAN BIN ABU BACKERJudge Court of Appeal, Malaysia
Download your free copy now
Hard copy book, signed by author, available at RM5
University cum Court Annexed Arbitration
In the pursuit of bringing better access to justice at lower cost for the people, Justice Hamid Sultan has developed a noble and prize winning concept to allow courts to propose arbitration to litigants that appear before them. The concept is new and if implemented, Malaysia will perhaps be the first country to pioneer the scheme.
This concept by Justice Hamid has been lucidly set out in the paper written by himself and Arun Kasi incorporated into University cum Court Annexed Arbitration – Proposal and Model Scheme Book (UCAA).
Janab, a renowned law publisher for more than two decades, now releases Janab Law Series 2019, comprising five books, namely Civil Procedure, Criminal Procedure, Evidence, Legal Remedies and Conveyancing Practice.
No.207 (2nd Floor),
Campbell Complex,
Jalan Dang Wangi,
50100 Kuala Lumpur
Malaysia.
Tel: (+603) 2698 0076
Email: sales@janablegal.com
Design by VTTECH IT SERVICES